THE NEW EUROPEANS
EMN Discussion Evening with the documentary screening
03 July 2023 at 7:30 pm, Kino Mladosť, Hviezdoslavovo námestie 17, Bratislava
Slovak premiere of the documentary film The New Europeans (2022, 52min; English and Slovak subtitles), by Nina Maria Paschalidou
The humanitarian catastrophe triggered by the war in Ukraine has led to the development of many different reception strategies across the EU. The complex reception structures for refugees created in some countries in a short time show how inconsistent Europe's response to immigration and human suffering is. While some refugees are welcomed with open arms, others are rejected. But can an ageing Europe manage without integrating all of these new arrivals?
The film screening will be followed by an expert discussion on migration, migration policies and long-term public attitudes towards foreigners and diversity in Slovakia in the light of a broader economic, demographic and social reality.
Discussants:
Oľga Gyárfášová, Sociologist and Associate Professor at the Institute of European Studies and International Relations, University of Comenius in Bratislava
Lucia Mýtna Kureková, Labour Migration Expert and Researcher, Slovak Academy of Sciences
Ján Orlovský, Director of Migration Office of the Ministry of Interior of the Slovak Republic
Moderator: Zuzana Vatráľová, Chief of Mission, International Organization for Migration (IOM), Ireland
Free public event. Tickets will be available at Kino Mladosť before the screening from 6.30 pm.
For more information: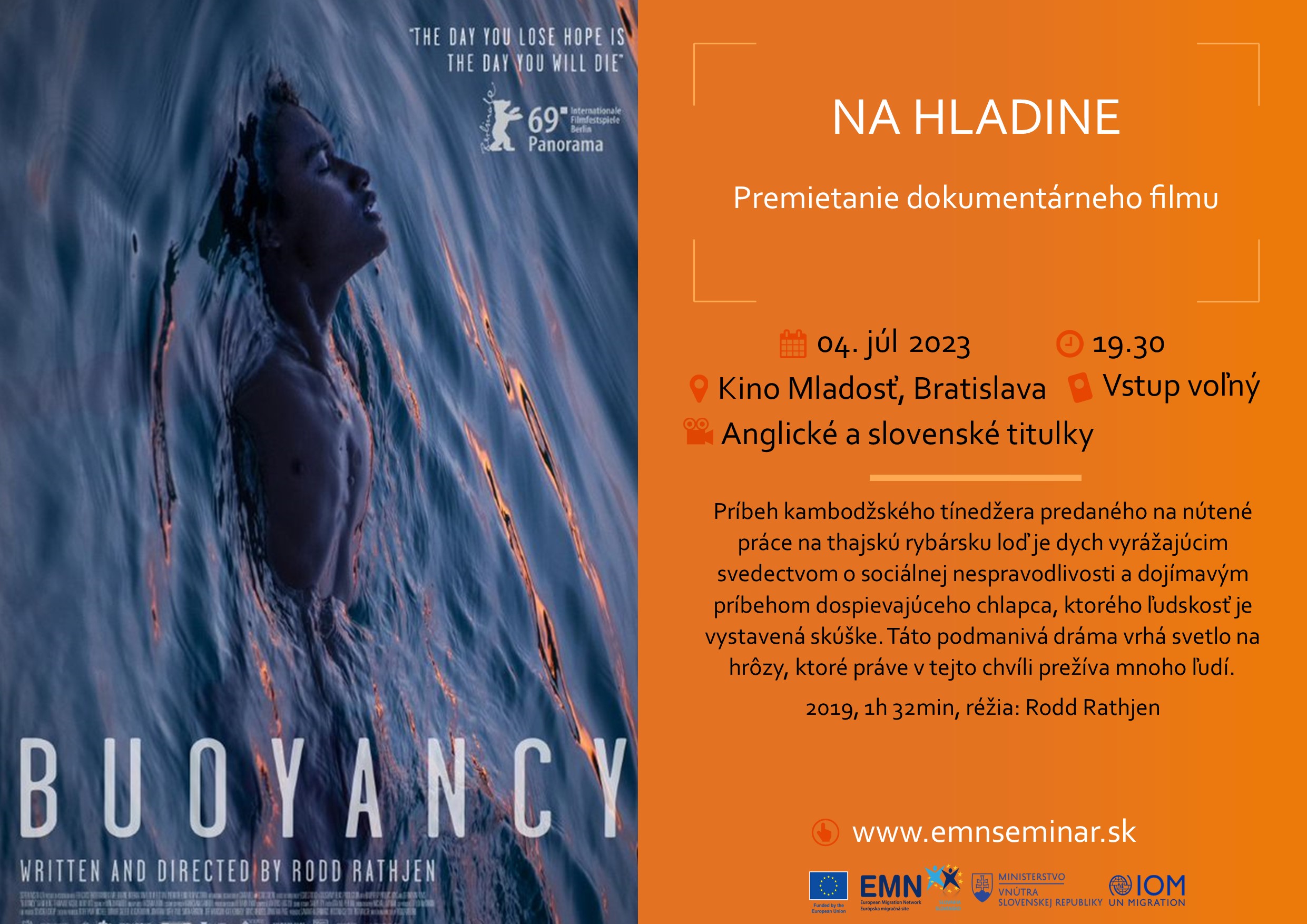 BUOYANCY
EMN Documentary Screening
04 July 2023 at 7:30 pm, Kino Mladosť, Hviezdoslavovo námestie 17, Bratislava
Slovak premiere of the drama film Buoyancy based on real events (2019, 1h 32min; English and Slovak subtitles; trailer: here), by Rodd Rathjen
A story of a Cambodian teenager sold into forced labour on a Thai fishing boat is a passionate testimony against social injustice and a moving coming-of-age tale about a boy whose humanity is put to the test. This captivating drama shines a light on the horrors that so many people are living through at this very moment.
Free public event. Tickets will be available at Kino Mladosť before the screening from 6.30 pm.
More information: